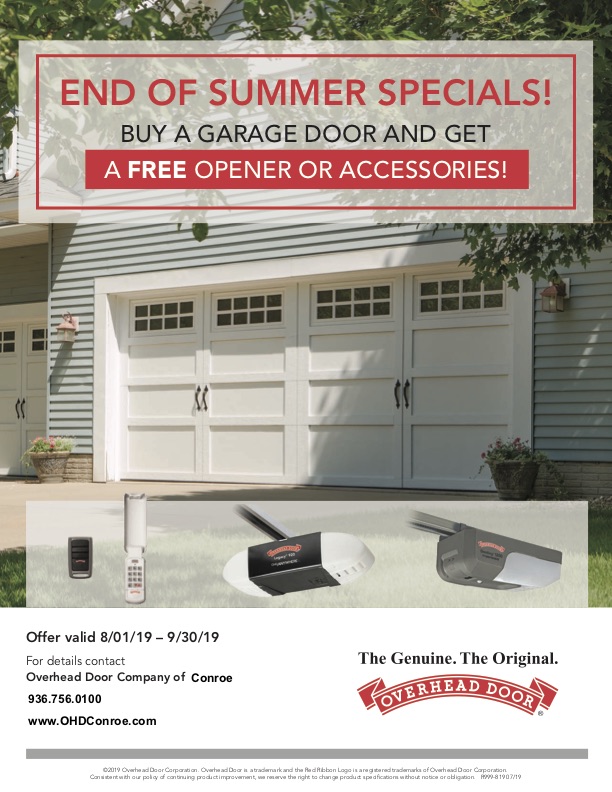 Replace your door and get more
The Overhead Door Company of Conroe makes your garage a safer, more convenient, and better looking—for less. Save with these End of Summer Specials before September 30, 2019 and get free upgrades with your purchase.
Get a new door to get a free remote and keypad
Replace your aging garage door with a Traditional Steel Collection door, 170/180 Series in Walnut or Mission Oak finish and get a FREE 3-Button Remote (Model O3T-BX) and Digital Wireless Keypad (Model OKP-BX).
Get a new door to get a new opener FREE
Replace your garage door with a new Thermacore® Collection door, 190 Series in wood grain or Modern Metallic finish and get a FREE Legacy 920 Model 7120H opener.
OR, choose a Courtyard Collection® replacement door, 160 Series and get a FREE Destiny 1200 Model 8130H opener.
Call or contact now to get your replacement door and free upgrade
(936) 756-0100
Terms and Conditions: Orders must be received by 9/30/19. No other discounting will apply. Cannot be combined with any other offer. Offer good while supplies last.